Clifford N.Ribner, Attorney at Law
Practice limited to civil and criminal controversies and litigation, trials and appeals of all kinds, including tax, constitutional, commercial and estate litigation and controversies
The Offices of Clifford N. Ribner, Tax Attorney, J.D., LL.M. (in Taxation)

Clients throughout Oklahoma – and the Entire USA.
320 So. Boston Tulsa, Oklahoma 74103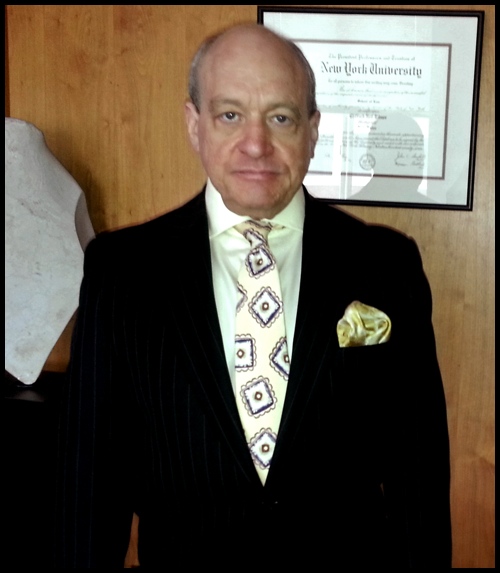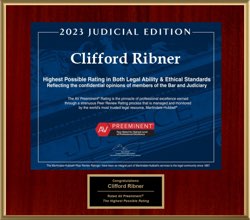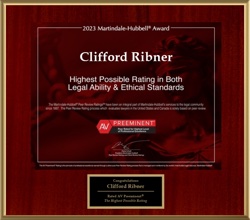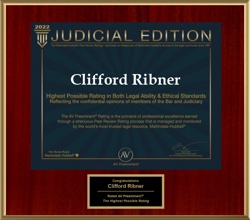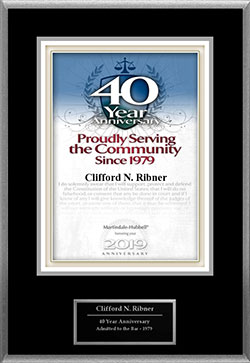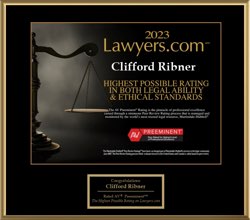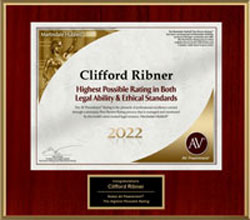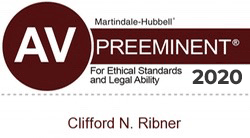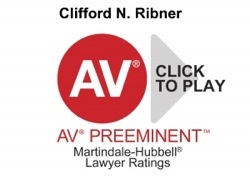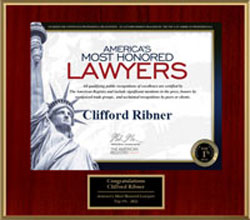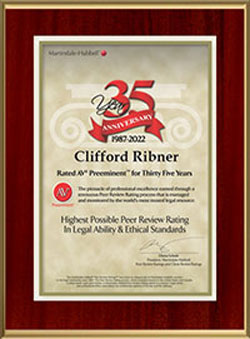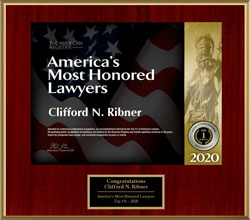 Best Tulsa Tax Attorney Awards
Tulsa Tax & Litigation Attorney
Clifford N. Ribner, Tulsa Oklahoma, USA
Do you have an "impossible" tax law problem?
Please feel free to ask any judge or lawyer you may know and trust if he or she would feel comfortable referring you to me. Referrals are how most of my clients come to me. If you need a Tulsa Tax Attorney, call my office any time of day or night at: 918-582-9200.
Understanding the IRS
IRS personnel do not resolve cases favorably for taxpayers to be nice, or even because it is reasonable for them to do so. They only do so when they are forced to, out of their concern over the hazards of potential litigation against the taxpayer and his tax attorney.
With a unique combination of specialized tax law and litigation training and experience, I can provide the highest possible hazard of litigation against the IRS for my clients.
Training and Experience:
AV (highest possible) peer-reviewed Martindale-Hubbell rating continously since 1985.
NYU Law School: J.D. (1977) and Lasker Scholar LL.M. (in Taxation) (1978) recognized as the nation's premiere training ground for tax attorneys
Cornell University: A.B. Magna Cum Laude (1973)
A former professor of tax law at Tulsa University Law School
Over 42 years of experience in complex tax law and litigation, including multiple jury trials and appeals.
Only two clients who were named targets of the Criminal Investigation Division ever indicted. Ever.
For a more comprehensive look at my experience resolving IRS problems, please review my resume. What my resume will tell you is that I am a highly trained and experienced tax law problem specialist and a veteran trial and appellate litigator.
Areas of Tax Specialization:
You need a specialized tax lawyer in an IRS dispute.
Tax law is one of the most complicated fields of law. Taking one or two tax law classes in law school doesn't give an Oklahoma attorney the training or experience necessary to represent you effectively against the IRS. It would be like going to an obstetrician for brain surgery. They're both doctors, yes, but with very different specialties.
The stakes are too high to gamble on a lawyer without specialized tools, training and experience in tax law. If things go wrong, the business you've worked so hard to build could be shut down. You personally could even go to jail. For serious tax problems, including large IRS debts, payroll and other employment tax problems, you need a tax attorney. Here are some tips for finding an Oklahoma tax attorney who can successfully go to bat for you against the IRS.
1) Specialized education
Look for an Oklahoma lawyer that specializes in tax law and graduated from a highly rated law school, such as NYU School of Law. A master's degree in tax law (LL.M. in Taxation) is preferable, but not required as long as the attorney has real training and experience in tax law. Make sure they stay current in their field as well. Tax law in particular constantly changes, and you don't want your business to suffer with an attorney who's behind the times.
2) References count
If there is a lawyer or judge you trust, ask if they know someone who specializes in tax cases who they feel comfortable recommending to you. Peer-reviewed ratings, like Martindale-Hubbell, can also tell you exactly what other lawyers are saying about the tax lawyer you're interested in. Ask the Better Business Bureau about the Oklahoma tax lawyer as well.
3) Field experience
If you have a dangerous, potentially expensive, and/or complicated controversy with the IRS, you need an Oklahoma tax lawyer with extensive litigation experience. Unfortunately, very few have that. When someone's after you, you want a lawyer with real experience dealing with conflicts and proceedings.
Tulsa Tax Attorney – Clifford N. Ribner – Oklahoma
We at the law offices of Clifford N Ribner truly hope all is well with you – and that you never need our services in real life. On the other hand, if you or anyone you know, or any business or entity you know, is being audited by the IRS and/or any state, because of increased IRS and state aggressiveness (including Circular 230) a CPA, particularly one who prepared the return in question, can no longer do the job and a real tax litigator – which is what Mr. Ribner is – is needed.
We honestly know of no one between Dallas and Chicago with credentials as a tax litigator comparable to his (it ain't bragging when it's true). Please review the Resume page for a detailed description of those credentials.
Mr. Ribner uniquely combines the skills of both a highly-trained and experienced tax lawyer and a similarly-credentialed litigator who has been first-chair in numerous jury trials and in appeals to higher courts, including multiple such appeals to the Supreme Courts of both the United States (whose bar he belongs to) and Oklahoma, as well as numerous administrative appeals within the IRS.
Oklahoma Tax Attorney for State and Federal Tax Controversies
Clifford N. Ribner is an Oklahoma Tax Attorney that strictly limits his practice to tax litigation and tax controversies with the taxing authorities (the IRS and state tax authorities such as the Oklahoma Tax Commission and similar enforcers in a multitude of other states).
The enormous increase in IRS aggressiveness, especially towards closely-held businesses and wealthy individuals, over the past few years has also enormously increased the number of circumstances in which Mr. Ribner's services have become necessary (including in what should be ordinary audits which used to not require him until late in the process, if at all).
We truly hope you and your clients never need Mr. Ribner's services. He does no compliance nor transactional work (he used to do the latter). When it comes to all tax matters, he is strictly the guy with brass knuckles inside a velvet glove representing the good guys against the forces of evil.
Tulsa Tax Attorney, Clifford N. Ribner represents any business or entity that has to interface in any manner with the IRS or any state taxing authority. It is an unacceptable business risk for any taxpayer or his return preparer (who now has a potential conflict with his own client because of IRS regulations) to deal with them directly. It is all litigation, which the IRS in particular attempts to trick individuals and entities into venturing into on their own.
Contact Tulsa Tax Attorney Clifford N. Ribner at 918-582-9200
Do you have an "impossible" tax law problem?
Please feel free to ask any judge or lawyer you may know and trust if he or she would feel comfortable referring you to me. Referrals are how most of my clients come to me. If you need a Tulsa Tax Attorney, call my office any time of day or night at: 918-582-9200.