Clifford N.Ribner, Attorney at Law
Practice limited to civil and criminal controversies and litigation, trials and appeals of all kinds, including tax, constitutional, commercial and estate litigation and controversies
The Offices of Clifford N. Ribner, Tax Attorney, J.D., LL.M. (in Taxation)

Clients throughout Oklahoma – and the Entire USA.
320 So. Boston Tulsa, Oklahoma 74103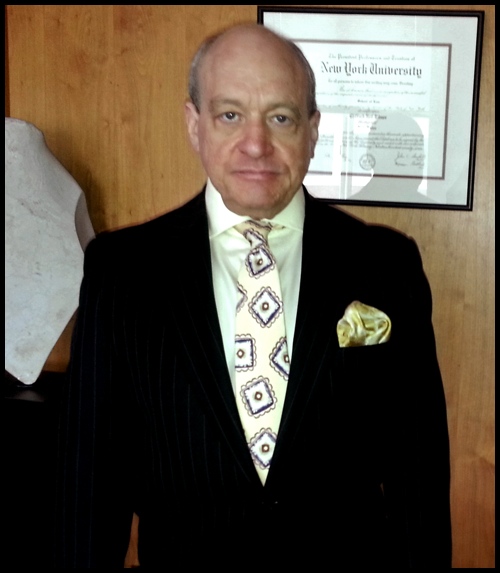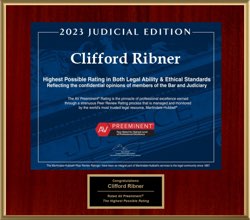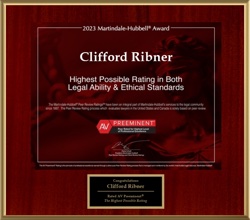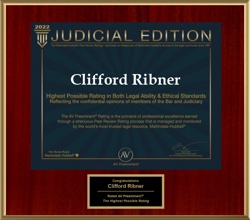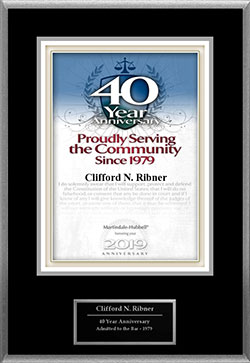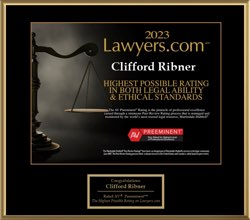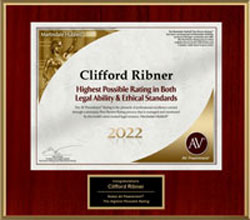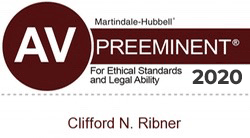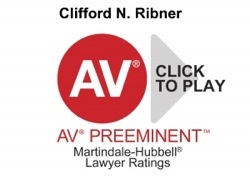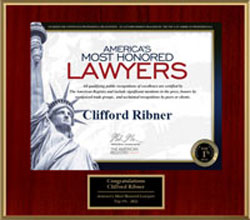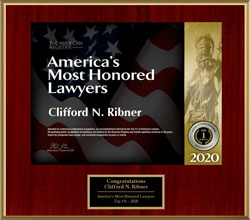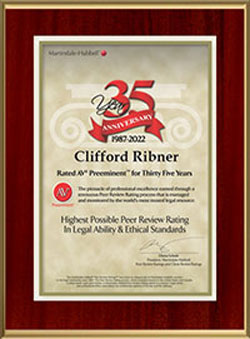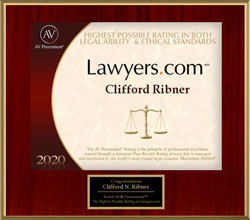 Resume of: CLIFFORD N. RIBNER
320 So. Boston
Tulsa, Oklahoma 74103
Telephone: (918) 582-9200
e-mail: cribner@mac.com
EDUCATION:
New York University School of Law
J.D., 1977; LL.M. (in Taxation), 1978.
Lasker Scholar, 1978 (full-tuition merit scholarship)
Cornell University
College of Arts & Sciences, B.A.
Magna Cum Laude, 1973
TEACHING EXPERIENCE:
Adjunct Professor, University of Tulsa College of Law
Instructor for "Individual Income Tax" (4 Credits), Spring Term, 1981.
AV (Highest Possible) Martindale-Hubbell peer-reviewed rating since 1985.
LEGAL EXPERIENCE:
2004 – Present
Solo practitioner – 320 S. Boston, Tulsa, OK.
1987 – 2004
Sole Practitioner, Office since 1995 at 320 South Boston. All aspects of complex litigation (from initial pleadings through final judgment and collection, including discovery, trials and appeals). Cases have involved State and Federal Tax Controversies, Antitrust, Corporate Law, Securities, Fraud and other complex Business Torts, Breach of Fiduciary Duty, Legal Malpractice, Battery and Outrage, Conversion, Negligence, Contracts, Priority of Liens, Divorce, Federal Indian Law, Constitutional Law, Shareholder Derivative Litigation, Oklahoma and Federal Criminal Law, Commercial Law, E.R.I.S.A.
January 1985 – 1987
Equal Partner in Kronfeld & Ribner, 2340 One Williams Center, Tulsa, OK. Practice limited to taxation.
July 1984 – January 1985
Principal in Ribner & Associates, 1516 South Boston Ave., Tulsa, OK. Practice limited to taxation.
January 1982 – July 1984
Initially Associate, then Partner, in charge of Tax, at Blackstock, Joyce, Pollard, Blackstock and Montgomery, 515 South Main Mall. Tulsa, OK.
June 1979 – January 1982
Tax Associate, Hall Estill Hardwick Gable Collingsworth & Nelson, 4100 One Williams Center, Tulsa, OK.
October 1978 – June 1979
Associate, Carter Ledyard & Milburn, Two Wall Street, New York
REPORTED CASES:
McDermott v. Sentry Life Insurance Co., 2000 OK CIV APP 115, 15 P.3d 508, cert. den.;
Patel v. OMH, 1999 OK 33, 987 P.2d 1185, cert. den.;
James E. and Nancy Foy, 84 T.C. 50 (1985);
Church By Mail, Inc., 48 T.C.M. 471(1984), P. Hall T.C. Memo 1984-349.
BAR MEMBERSHIPS:
New York, Oklahoma State and Federal Courts, 10th and 4th U.S. Circuit Courts of Appeals, U.S.Tax Court, Supreme Court of the United States.